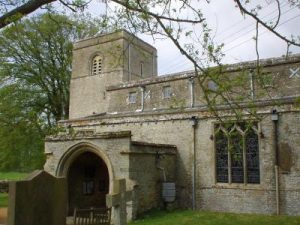 6 bells, 7-3-6 in G
Directions
From junction 10 of the M40 travel north on the A43 towards Northampton for approx. ¼ mile. At large roundabout with petrol station turn left onto B4100 towards Banbury. After approx 1 mile turn left into Souldern village. When you reach the small village pond turn right and the church is at the end of the lane. (NB. Restricted parking)
Services
Please check the web site www.3parishes.co.uk for up to minute news of services and times
Practice Night
Tuesdays at 7.30pm to 9.00pm.
Glossary
Reproduced from The Church Bells of Oxfordshire by Fred Sharpe 1954
A western tower containing a ring of six bells; tenor 36 inches in diameter, in G; and a Sanctus bell, 14 inches in diameter.
Bell
Inscription
Cwt. Qtr. Lbs.
Treble
MEARS & STAINBANK, FOUNDERS, LONDON A.D.1907
VENITE EXULTEMUS
3-1-24
Second
MEARS & STAINBANK, FOUNDERS, LONDON A.D.1907
TE DEUM LAUDAMUS
3-3-13
Third
HENRY BAGLE MADE MEE 1635 (Cable moulding all round bell)
CANTATE DOMINO CANTICVM NOVVM
4-1-0 approx
Fourth
(Whitechapel foundry mark)
Sant ta an na RECAST A.D. 1910
4-2-27
Fifth
HB 1631
I CVM VOCE ICVNDISSIMA PRESEQVOR
6-0-0 approx
Tenor
HENRY BAGLE 1631
VOBISCVM CO(N)C(O)RDO DEVM LAVDARE
8-0-0 approx
The treble and second were cast in 1907 at the Whitechapel foundry where also the fourth was recast three years later. The third, fifth and tenor were cast by Henry Bagley I: the two largest were the first to be cast at the famous Chacombe foundry.
All the bells retain their canons; the seventeenth century ones have been quarter-turned. They are fitted with gear, type B, and hang in an oak frame installed by F White in 1907. a false crown staple is fitted to the third. The saunce is hung for chiming. It was cast by Henry Bagley I, and inscribed: HB 1665.
The former fourth was by John Saunders, of Reading, circa 1550. it was cracked through the clapper being allowed to wear a deep hollow in its sound-bow; and the writer was told by Mr Richard White that he had never seen a bell so deeply indented by the action of the clapper as this one. It was quarter-turned in 1907, but this precaution was carried out too late to save it.
The treble and second were added to the ring in 1907. a tablet on the west wall of the tower is inscribed: "To the Glory of GOD, and in perpetual remembrance of my beloved husband and my only Child, the four Ancient Bells were restored, and two were added, A.D. 1907, by Anne Penrose Gough".
In 1997 the bells were re-hung with modern fittings and a false ceiling was installed above the ringing chamber. The bell-hanger's work was carried out by Mr Brian White of White's of Appleton, great grandson of Frederick White who had done the work in 1907 to 1910.
Through the help of the Central Council of Church Bellringers, a 50% grant towards the cost was obtained from the Millennium Commission to "RING IN THE MILLENNIUM".
Grants were also obtained from the Bell Fund of the Oxford Diocesan Guild of Church Bellringers and the Bicester Branch of the Guild, thanks to Richard Stevens of the Bicester Branch whose expertise, enthusiasm and patience have ensured the continuing sound of bells in Souldern.