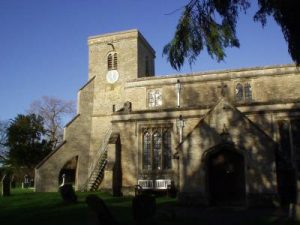 6 bells, 6-3-21 in Bb
Launton is a very small tower with a rather interesting entrance
Launton is also the resting place of the late Frederick Sharpe who wrote several books documenting the bells of the Bicester Branch, and then the Bells of Oxfordshire. His grave can be found in the churchyard behind the tower.
There are 6 bells, with the tenor weighing 7-0-5, note Bb.
Launton does not have a regular practice at present.