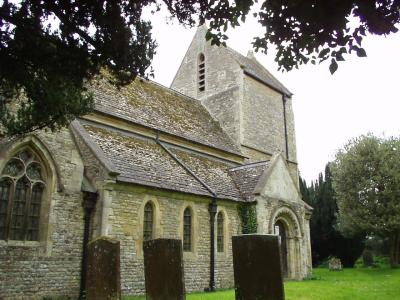 5 bells, 4-3-16 in Db
Particulars of the ring of five bells:
Bell
Inscription
Weight
Treble
Ab
+ IN EXCELSIS GLORIA 1949
( Whitechapel Foundry marks and ornamental border)
+ IN LOVING MEMORY OF EUSTACE EDWARD
LOVETT PHILLIPS, KILLED IN FRANCE, OCTOBER 1915.
(Crest of the Royal Berkshire Regiment)
2-1-3
Second
Gb
+ CARTAS +
(Bellfounders marks and border as on treble) 1949
+ IN LOVING MEMORY OF HETTY PHILLIPS
7 Dec 1863 – 8 Dec 1948
2-1-20
Third
F
+ AVE MARIA GARCIA PLENA DOMINVS TECVM +
(Whitechapel Foundry mark)
+ ANNO DOMINI MCMXXVII. +
2-3-4
Fourth
Eb
IN HONORE BEATI LAVRENTII
J TAYLOR & Co FOOUNDERS LOUGHBOROUGH
1876
4-0-18
Tenor
Db
J TAYLOR & Co FOUNDERS LOUGHBOROUGH 1874
4-3-16
Inscription on early thirteenth century bell: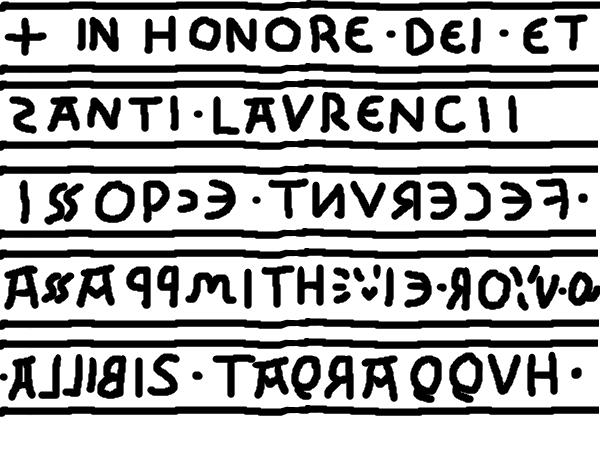 Translation: In honour of God ad St Laurence Hug(h) Gargate and Sibilla his wife had them these bells erected Hugh Gargate died between the years 1215 and 1219. The bell is the oldest inscribed bell in England.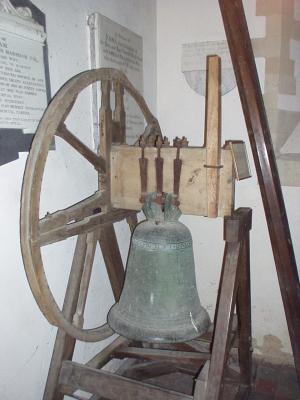 Caversfield bells are only rung once a month, on the second Sunday in the month (8.45am – 9.15am).
For more details contact
Ian Smart
Tel: 07985 900438
caversfield@bicesterbranch.org.uk
Parking
Please do NOT park in the grounds to Caversfield House.
Parking can be found in the lane to Home Farm (on opposite side of Banbury Road to the church. Look for signs to "Pea Green Psysio" and "Home Farm. The Courtyard" (picture below taking with back to Bicester, looking towards M40 Jn 10 & Banbury).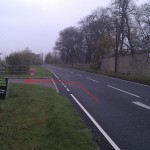 From there you can walk along the verge (back towards Bicester) and cross the road into the churchyard through a metal frame gate accessed through a cutting in the bank of the verge.
Access to Caversfield church