"BE IT REMEMBERED":
Who rang that Peal at St. Mary's Church, Kirtlington, in 1881?
The Peal Board
In the ringing chamber of St Mary's Church, Kirtlington, is a massive peal board. It's around six feet in height, firmly anchored to the wall by heavy iron brackets which are fixed at an angle to make the board easier to read from below. It's one of those objects which tend to be looked at once with brief passing interest and then forgotten. But on reflection I thought I would try to find out more about an event which the board commemorates.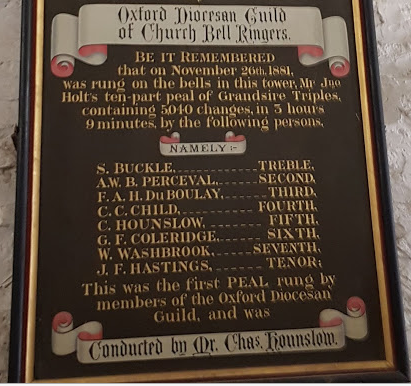 The board actually celebrates two peals of Grandsire Triples. The first, by members of the Oxford University Society of Change Ringers, took place on 14th June 1879. The second was rung two years later, on 26th November 1881, by members of The Oxford Diocesan Guild of Bell Ringers. I thought I might investigate the background of this latter event, given that we 'Bellringers of Kirtlington, Bletchingdon and environs' are members of the Bicester Branch of the Oxford Diocesan Guild.
The Event
This was an important occasion in the history of the Oxford Diocesan Guild as it was the year of the Guild's establishment, and it would be reasonable to assume that this full peal – the first in the Guild's history – was planned in order to celebrate this.
In 1881 a 62-year-old Queen Victoria had been on the throne for 44 years; Prince Albert had died 20 years earlier, and William Gladstone was Prime Minister. It wasn't a particularly eventful year but the first Boer War had ended in the March. November was a warm month; on the 26th and 27th there were very high winds causing damage across Britain.
So on this warm and windy day eight men of various ages set out from Oxford and headed for Kirtlington. How did they travel? Very possibly on bicycles, or they may alternatively have taken the train from Oxford Station to what was then called Kirtlington Station at Enslow, then walked the two miles to St Mary's Church from there. Whichever mode of transport they used they would have passed along muddy tracks – no tarmac back then – to a small village populated almost entirely by agricultural workers.
Arriving at St Mary's they ascended the 25 spiral steps to the ringing chamber, then embarked upon a marathon session of ringing which lasted for just over three hours, and included 5,040 changes.
The Ringers
This was a joint endeavour of Oxford 'Town and Gown'. The venerable Church Bells (Bells and Bell Ringing) Volume 12, December 1881 tells us that five of the men were members of the Oxford University Society of Change Ringers, and the other three were members of the Oxford Society of Change Ringers. All were members of the Ancient Society of College Youths and the Oxford Diocesan Guild of Church Bell Ringers. For six of the eight this would be the first peal of this length which they had rung
It would be interesting to provide some depth to these doughty but long-forgotten ringers. Who were they? Historical and genealogical research can provide some useful background information to make them more three-dimensional than just names painted on a wooden board…
The University Society members
The five members of the University Society were all young undergraduates. Interestingly, four of them went on to be clergymen while one went into the armed forces.
Number 2 Bell: Arthur William Bernard Perceval
Aged 22, Arthur Perceval was a student at Queen's College. Although the son of a clergyman, he went on to forge a distinguished career in the army.
Arthur joined the 31st Regiment (East Surrey), then gained the rank of Captain in the Australian Commonwealth Forces. He fought in the second Boer War and was promoted to Commanding Officer of the South District Scouts in Natal. He died in 1952 in South Africa, aged 92.
Number 3 Bell: Francis Alban Houssemayne Du Boulay
Also 22, Francis Du Boulay was, as might be suspected from his impressive name, a member of an aristocratic family, whose father and grandfather were clergymen.
After graduating from Keble College Francis followed his forefathers into the church, holding tenures in Wiltshire and Sussex where he was a well-known ringer. He died in 1934 at the age of 75 in Cuckfield, Sussex.
Number 4 Bell: Cyril Charles Child
Born in Cuddesdon, Oxford, 20-year-old Cyril Child was a student at Christ Church college. An interesting fact is that Cyril's mother was Louisa Dashwood, one of the extensive family of Kirtlington Dashwoods, who were great benefactors to the village and St Mary's church.
Another cleric, Cyril held offices in Dorset and Yorkshire and was known for his close connection with the Universities' Mission in Central Africa. This was a society established by members of the Anglican Church in the universities of Oxford, Cambridge, Durham, and Dublin, founded in response to a plea by the missionary David Livingstone to train native African priests. Cyril died in 1924, aged 64, in Southwark, London.
Number 6 Bell: George Frederick Coleridge
23-year-old George Coleridge was another undergraduate of Keble College, and after graduation took a curacy in Caversham, Berkshire, then moved to Crowthorne, also in Berks, as parish priest where he remained for the next 50 years. In 1917 he was made an Honorary Canon of Christ Church Cathedral, Oxford in recognition of his work in the diocese.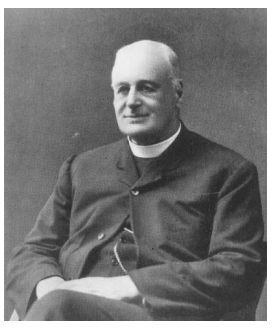 During these residencies George was a prodigious ringer, clocking up many full peals. Between 1934 and 1946 he was Master of the Oxford Diocesan Guild of Church Bell Ringers, and represented the Oxford Guild on the Central Council of Bell Ringers from 1891 to 1949, being President from 1921 to 1930. He died in 1949 at the age of 92, in Bracknell, Berkshire.
Number 8 Bell: James Francis Hastings
Ringing the mighty 18cwt Tenor was the youngest student, 19-year-old James Hastings of Corpus Christi college. Another who followed his father into holy orders, most of his clerical life was spent at Martley in Worcestershire. There he continued his ringing career and was Clerical Secretary to the Worcestershire and Districts Change Ringing Association.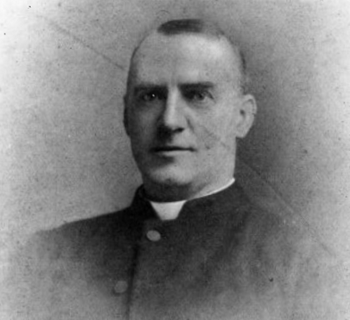 According to the Martley Village Community website, James's father had a hand in the adoption of the infamous "Hastings stay":
"The Rev. J. F. Hastings [James's father] was well known as an advisor on bells and belfries. One of the designs in current use in bell hanging for the stay and slider mechanism of a bell is still known as the "Hastings" stay. It was suggested to Mr. J. W. Taylor, the famous Loughborough bell founder, by the Rev. J.P. HastIngs [James's father] and adopted by Taylor's as a standard fitting."
James died in 1947, aged 85, in Hartley Wintney, Hants.
The Oxford Society members
It might be expected that the Oxford 'Town' contingent would be less prominent than their relatively privileged University companions. However this is not the case, as will be shown below…
Number 1 Bell: Sidney Buckle
Sidney Buckle was a 26-year-old baker from the St Thomas's district of Oxford who rang the Treble in this peal. Unfortunately no more detail of his life can be found, apart from the fact that he rang regularly with James Washbrook (see below).
Number 5 Bell: Charles Hounslow
The most senior ringer in the room was 50-year-old Charles Hounslow from Iffley Road, Oxford, who conducted the peal from the Number 5 bell. His professions over time were 'writer and engraver' and 'signwriter'. One wonders if he was involved in the production of the Peal Board! Charles died in 1913 aged 82.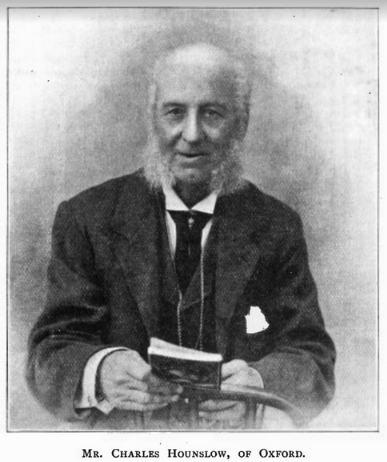 Number 7 Bell: James William Washbrook
Although aged only seventeen at the time of this event, James Washbrook would achieve legendary status as a bellringer. In his book 'The History and Art of Change Ringing', Ernest Morris wrote:
"In the ringing world, J. W. Washbrook stood alone as a born genius in ringing, conducting and composing, and it is safe to say that the exercise has never seen his counterpart."
What did this young man do to merit such effusive praise?
James was ringing rounds at St Thomas's Church in Oxford before he was eight, but he didn't learn anything of change ringing until he was sixteen. He clearly took to it at a phenomenal pace because a year later he was ringing his first full peal on this occasion at Kirtlington. His progress was now gathering pace: in the following year he 'turned professional' when he was appointed as a paid instructor to the Oxford Guild. He was soon conducting peals on eight and ten bells around Oxford Colleges such as Christ Church and Merton.
James moved to Hereford to take the position of instructor at the newly-formed Hereford Guild, then back to Oxford for a similar role. Here he composed and conducted many long peals, such as 15,041 Stedman Caters rung at Appleton on 31 December 1888 – his 121st peal of the year. Another peal of Stedman Caters was rung to celebrate the new ring of bells at Wells Cathedral in 1891. Washbrook conducted this from the 57cwt tenor, which he rang himself for all but the last 40 minutes.
In 1899 James took the post of sexton in charge of a new church at Arklow, County Wicklow, Ireland with a brief to train a new band of ringers. According to Dr. John C. Eisel, Hon. Librarian of the CCCBR in his book 'Giants of the Exercise':
"With the difficulties of teaching a band and shortages of skilled ringers, he developed his facility for ringing two tower bells, and on 19 September 1901 not only rang the third AND fourth bells at Arklow to a peal of Grandsire Triples, but also called Holt's Original composition."
James retired from ringing and moved back to England around 1910, first to Staffordshire then Manchester, where he ran a dairy business. All four of his sons joined the army at the outbreak of the Great War In 1914, and tragically three of them were killed. James collapsed and died while out on his round on Christmas Day, 1923. He was 59.
It's fitting that the Oxford bellringing establishment commemorated Washbrook's achievements by rehanging the ring of six bells at St. Ebbe's Church, Oxford and increasing it to eight. The Oxford Diocesan Guild and other ringers met the cost. A bronze tablet is inscribed:
" ANNo DoMINI 1925
The bells in this tower were repaired and rehung and two trebles added by the Oxford Diocesan Guild and ringers of the British Empire, in memory of JAMES W. WASHBROOK a highly skilled ringer, a talented composer, & an able conductor, for many years instructor to the Guild.
Born July 27-1864, Died Xmas Day 1923″
Conclusion
I hope that this research has added some humanity to that austere but imposing peal board. It marks an important event in the history of the Oxford Guild, and in the young lives of six of the participants. I know that every time I see it in future I will pay it the respect it deserves.
Gus Bridges, December 2020