On Friday 25th April the Caversfield ringers and two of the Launton band trekked down the motorway to the Leigh End mini ring.

It took a bit of getting used to for some of the ringers but we had some pretty good ringing by the end of the evening.

We started with some handling tips from Mark Walker before we had goes on our own (including some double handed fun for those who had rung on mini rings before) and then had a go at rounds (one person had to ring double handed as we only had 7 ringers at the start.. I leave it to you to work out who was showing off!!). Next we rang call changes on all 8.
We then had a look at the bells as the last two ringers had arrived and then we had some more rounds on 8. That was followed by some plain hunt on 5 with tenor cover before stretching the limits and trying plain hunt on 7 which some haven't tried anywhere before.
We progressed to Plain courses of Plain Bob Doubles with tenor cover and then Grandsire Doubles with a different tenor cover ringer. We rang rounds on the 8 at the end before the hilarity of ringing down.. though we didn't try in peal despite Mark's encouragement.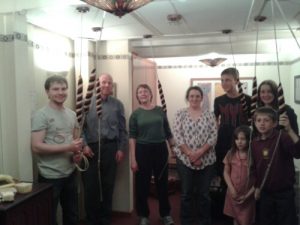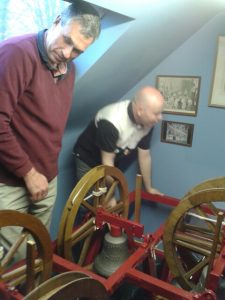 Anthony Cole